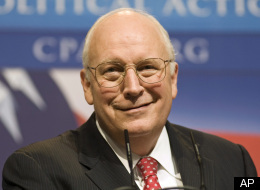 Former vice president Dick Cheney ( Dick Hitler to us) was hospitalized after experiencing chest pains Monday.
Cheney assistant Peter Long issued a statement that the 69-year-old Cheney was resting comfortably at George Washington University Hospital and his doctors were evaluating the situation.
"The DICK" Cheney has a history of heart problems, including four heart attacks starting at age 37.
When doctors rule out an immediate heart attack, the next step in evaluating chest pain usually is an X-ray exam called an angiogram to help uncover the cause. Doctors inject a dye that will highlight narrowed arteries leading to the heart.
IYFR – Many questions need asking:
1. Is George Washington University Hospital private or public? Is this a SOCIALIST situation
we're dealing with here? Are we footing the bill?
2. Is his Dr. an ex-Iraqi refugee liberal, who lost everything in the war?
3. Is it too soon to start planning the "I Spit On Your Grave" Tour?
4. What heart?
Share and Enjoy
Facebook comments:
comments